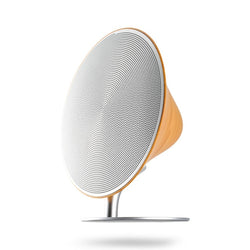 True craftsmanship, innovative technology built to deliver detailed & dynamic audio quality. Luxuries wooden finish, complete touch design, perfect pair for any modern home.
2PCS Set
Size : 14*16CM 
Bluetooth 4.2 Audio
Frequency Range : 80Hz-20KHz
Voice control & Built in Microphone 
We committee in providing the best possible service to every customer. You can have full confidence in receiving exactly what you pay for. 
If for ANY reason whatsoever you are not satisfied and want your money back, no hard feelings we'll make it right. If you're not happy, we're not happy.  

Our team is always here to help, 24 hours a day, 7 days a week. Please contact us for any assistance.